Everyone knows that traveling can be stressful. Whether you're heading off to a tropical paradise or just to another city on a business trip; potential flight delays, dry cabin air and lack of sleep can make your journey tiring.
It's essential to know the best ways to keep your trip stress-free so you can travel comfortably, keep your heart health in check and make the most of your trip.
For those of you who aren't frequent flyers, we've put together a clever guide to take some of the stress out of traveling. Our 'travel bible' will hopefully help you make your long journeys as luxurious as possible.
Here are some airplane secrets for the health conscious traveler:
Do your research
Not all airlines were created equal and quality can vary substantially, so a little extra money might be well spent if your flight is long haul. It's a good idea to look into which airlines have the best reputation for long haul flights to your destination.
Book your seats early
Most airlines allow you to pick your seat ahead of your journey – and as most passengers tend to pick the front seats, if you opt to sit further towards the back of the plane you might get yourself an empty row – making in-flight naps that much easier.
Consider your arrival time if flying across time zones
Often, it's much easier to adjust to the local time when you arrive at your destination in the evening. That way you can simply hit the pillow after a long flight and be rested in the morning.
Bring your own food on the plane
Plane food isn't always the most healthy or nutritious, so sometimes it's a good idea to bring along your own healthy snacks. This way, you can also eat when it's convenient for you rather than when the in-flight meals are scheduled.
Ask for extra water
Staying well hydrated during the flight is essential – it's much easier to get dehydrated at 30,000 ft due to the dry air circulating within the cabin. If you carry an empty water bottle with you, you can ask a member of the cabin crew to fill it up for you once you're in the air.
Comfort is key
Heels are a no-no when flying long-haul – they easily become uncomfortable due to the swelling that takes place during the flight. Jeans with plenty of lycra or good quality leggings are a great option and will help you stay comfortable throughout your flight. Pair these with a big scarf or a chunky wrap sweater that will not crease to stay warm and stylish.
Get yourself and invitation to a Pre-flight lounge
Make the most of your time before your departure and get some relaxation in before your flight leaves. PriorityPass is one of the most accepted services to consider.
Protect yourself against germs
The enclosed, crowded space of an airplane or train is a potential breeding ground for germs, viruses and bacteria. It's a good idea to pack a carry-on sized bottle of hand sanitizer or some sanitizing wipes to clean off plastic armrests and trays.
Advise the hotel of tour arrival time in advance
Many hotels are able to accommodate you before their normal check-in time if you let them know in advance.
Look for hotels with good gyms, spas and swimming pools
Exercising and de stressing is key to quick local time zone acclimatization.
The final golden rule
Alcohol has a habit of throwing most people off for days, making the trip less enjoyable for you as well as those around you. Trying a sleeping pill on your first long haul trip is not a good idea either. If you feel you need one, try it beforehand and look for side effects and breaks in your sleeping cycle.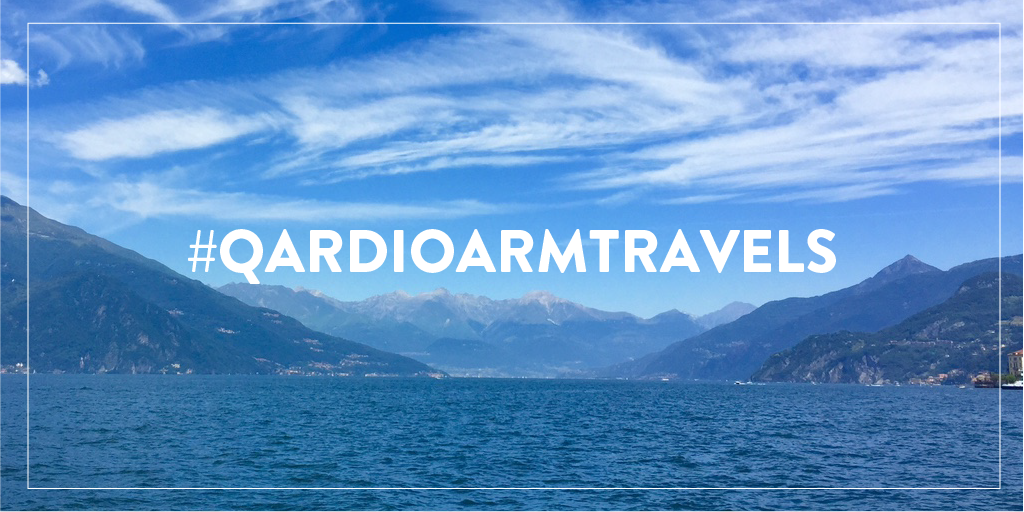 Traveling somewhere exciting this season? Take a photo of your adventure and share it with us on Facebook, Pinterest, Instagram or Twitter using the hashtag #qardioarmtravels or on Facebook using @getqardio.