Qardio recently teamed up with some of the top nutritionists and dietitians around the world to curate a list of the best superfoods for your health. Nutrient-dense superfoods increase your ability to fight disease and make you feel great says Rebecca Lewis, the in-house nutritionist at HelloFresh. So here is a list of our top nine superfood recipes to get inspired by. Which ones will you try?
Quinoa superfood salad
Mark Mincolla PH.D. is a well-known, natural healthcare practitioner, combining Chinese energy with nutritional science for an innovative "East meets West" approach to medicine. His new book the The Whole Diet is designed to help you lose weight with natural, healthy meals.  We recommend trying Dr. Mincolla's nutritious Quinoa superfood salad recipe below. The satisfying quinoa will keep you full with 8 grams of protein per cup, creamy avocados can lower cholesterol and sweet pomegranate seeds contain heart healthy antioxidants. Check out more advice from Dr. Mincolla here.
Ingredients
1 cup quinoa
1 1/2 cups water
2 packed cups kale, chopped into bite-sized pieces
juice of 1 lemon
1/4 cup olive oil
1/2 teaspoon salt
1 cup pomegranate seeds
1 Haas avocado, chopped
1/2 cup onion, minced
1/4 cup additional olive oil
Directions
To cook quinoa on the stove, put the quinoa and the water in a 2 quart pot and bring to a boil. Lower the heat and simmer for 12 minutes. When the quinoa is cooked, transfer to the large bowl that you'll be serving your salad in.  Meanwhile in a separate bowl, combine the kale, lemon juice, olive oil, and salt. Mix well so the kale is well coated, and set it aside to wilt for at least 10 minutes.
When the quinoa has cooled, transfer the kale mixture, pomegranate seeds, avocado, onion, and additional olive oil to the bowl with the quinoa, and toss well. Serve immediately or refrigerate to save for later.
Purple kale and cabbage salad
Dr. Deanna Munich is an internationally recognized doctor, author and nutritionist. She recommends this healthy salad recipe as part of her Whole Detox program because it contains kale, her favorite superfood. Kale has been shown to lower blood pressure, enhance liver function and even alleviate anxiety. You can learn more about Dr. Munich here.
Ingredients
1 cup chopped purple kale
1/2 cup chopped red cabbage
1/3 cup thinly sliced red apple
2 tablespoons chopped walnuts
For the Dressing
1 tablespoon freshly squeezed lemon juice
1/2 tablespoon Dijon mustard
1 teaspoon honey
1 tablespoon extra- virgin olive oil
Sea salt and ground black pepper to taste
Directions
In a serving bowl, combine the kale, cabbage, apple, and walnuts.  In a small bowl, whisk together all the dressing ingredients, then pour the dressing over the salad.
Matcha magic
Elissa Goodman is a well-known LA nutritionist who used improved diet as part of a holistic plan to help recover from cancer. Her favorite superfood is Matcha, a green tea that provides long lasting energy without a crash, boosts metabolism, mood, digestion and improves skin along with fighting viruses and bacteria. Elissa's Matcha Magic recipe is a great one to kickstart your day with immune strengthening lemon and heart healthy ginger. You can find more of Elissa's recipes on her website here.
Ingredients
1-2 tsp. high quality organic Matcha powder
10 oz. filtered water
1-2 inches fresh ginger, juiced (or use a high quality ginger powder)
2 tsp. apple cider vinegar
juice of one fresh lemon
cup of ice
4-5 drops organic stevia (or sweetener of your choice)
Shaker or bamboo whisk (optional)
Directions
Add ingredients into a shaker, shake well, pour over ice. If no shaker, whisk matcha into filtered water, add ginger, lemon, and apple cider vinegar, stir vigorously and pour over ice. Sweeten with a couple drops of organic stevia.  Matcha will naturally separate over time. If that happens simply stir to re-blend.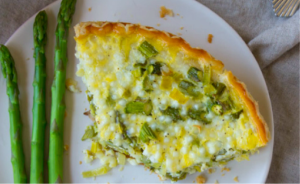 Asparagus and leek quiche with Cottage Cheese
Kara Lydon is a Boston-based registered dietitian and nutritionist who believes in a holistic approach to health. Her nationally recognized nutrition tips are designed to make you feel great and have more energy without dieting. Kara chooses cottage cheese as one of her favorite superfoods because it packs in double the protein and less fat than other dairy products. Below is a recipe for Kara's delicious, protein packed asparagus and leek quiche with cottage cheese, eggs and vegetables. More of Kara's recipes can be found here. 
Ingredients
1 tbsp unsalted butter
1 bunch asparagus, tough ends trimmed and thinly sliced (roughly 2 cups)
1 leek, white and light green parts only, thinly sliced
1/4 teaspoon salt, divided
1/4 teaspoon black pepper, divided
4 large eggs
1 cup cottage cheese
1/2 cup 2% milk
1/2 cup shredded Gruyere cheese
9-inch prepared pie crust
Directions
Preheat oven to 350 degrees F.  Melt butter in a sauté pan over medium heat. Add asparagus and leek and sauté for 8 minutes, stirring occasionally, until asparagus is slightly tender. Season with 1/8 teaspoon salt and pepper.  In a medium bowl, whisk together eggs, cottage cheese, and milk. Season with 1/8 teaspoon salt and pepper.  Place prepared pie crust on a baking sheet (to avoid any spillage while baking).  Add cheese, asparagus and leek, and top with egg mixture.  Bake at 350 degrees F for 50-60 minutes. Let sit for 10-15 minutes before serving.
Quinoa stuffed peppers with goat cheese and mushrooms
In-house registered dietitian at HelloFresh, Rebecca Lewis says 'an adequate healthy diet full of nutrient-dense superfoods' is a fantastic way to fight the common cold, feel better and have more energy. Her top five superfoods are bell peppers, broccoli, strawberries, salmon and sweet potatoes, all of which contain loads of nutrients without too many calories. Rebecca's stuffed bell pepper recipe is really flavorful with healthy quinoa, button mushrooms and fresh parsley. Find more recipes from HelloFresh on their website.
Ingredients
2 Red Bell Peppers
3/4 cup Quinoa
1 Stock Concentrate
2 cloves Garlic, minced
1 bunch Parsley finely chopped
1 Shallot finely chopped
4 oz Button Mushrooms, sliced
2 Tablespoons Soy Sauce
1 Tablespoon White Wine Vinegar
2 oz Goat Cheese
1 Tablespoon Olive Oil
Directions
Preheat oven to 400 degrees F. In a small pot, bring 1 1⁄2 cups of water, the stock concentrate and a large pinch of salt to a boil. Once boiling, add the quinoa, cover and reduce to a simmer for about 12 minutes, until tender.  Halve the bell peppers lengthwise and remove the core, seeds and white veins.  Drizzle the peppers with olive oil and season with salt and pepper. Roast for 10-­12 minutes, until slightly softened.  Heat 1 tablespoon oil in a large pan over medium/­high heat. Add the mushrooms and cook, tossing for 4­5 minutes, until golden brown. Add the shallot and garlic and cook for 2­-3 minutes, until fragrant.  Add 1 tablespoon vinegar, soy sauce, quinoa and half the parsley to the pan. Cook, tossing for 1 more minute.  Spoon the quinoa into the peppers and bake for 5-­7 minutes, until peppers are softened.  Sprinkle the peppers with parsley and goat cheese and enjoy!
Kohlrabi noodles with mushroom and ricotta bolognese
Mareya Ibrahim is a chef, author and founder of Eatcleaner. Her favorite superfood is Kohlrabi, a versatile veggie that has loads of vitamin C, dietary fiber, Potassium, Vitamin B6, Copper and Manganese. This recipe pairs crunchy Kohlrabi noodles with rich ricotta cheese for a dinner everyone will enjoy. You can find more of Mareya's recipes here. 
Ingredients
4 Cups Blanched Kohlrabi Noodles (Kohlrabi spiralized into noodles)
1 tablespoon grapeseed oil
2 cloves garlic, crushed
1/2 cup chopped onion, finely minced
2 1/2 Cups Cremini mushrooms, finely chopped
2 Tablespoons tomato paste
14 oz can Tomato Puree
1/2 Cup Non-fat Ricotta Cheese
1/2 teaspoon Kosher sea salt
1 teaspoon freshly ground black pepper
1/4 Cup grated Parmigiano-Reggiano cheese
2 Tablespoons flat leaf Italian parsley, minced
Optional: 1/2 lb. ground bison
Directions
In a large saucepan, heat grapeseed oil over medium heat and sauté garlic and onion until translucent, about 3 minutes.  Add chopped mushrooms and sauté another 3 minutes. If using bison, add in and sauté with mushrooms. Add tomato paste and tomato puree and stir until well incorporated. Season with sea salt and black pepper and reduce heat to simmer for about 12-15 minutes or until thickened. Whisk in ricotta cheese and cook another 3 minutes.  Toss sauce with Koodles and top with grated Parmigiano-Reggiano and flat leaf Italian parsley.
Fruit alaska
Dr. Priyanka of iCliniq, The Virtual Hospital recommends eggs as her favorite superfood. Her recipe for Fruit Alaska uses heart healthy egg whites and fresh fruit to make a delicious dessert. Dr. Priyanka is available for more nutritional advice through the icliniq website.
Ingredients
1 Apple
2-4 slice pineapple
plums
2 egg whites
vanilla essence
5 sauté sticks
Directions
Mix egg whites in a bowl with vanilla essence. Beat the egg white until the foam comes out.  Secure the fruits on sauté sticks and dip into the egg white mixture. Grill on flame for 2-3 minutes.
Serve immediately.
Frozen bananas with cacao
Dr. Carolyn Dean is a top medical doctor, nutritionist, author and consultant from California. Her favorite superfood is cacao because of the high levels of magnesium and antioxidants. Dean's frozen banana recipe is a delicious and healthy treat for dessert. More of Dr. Dean's health advice is available on her website here. 
Ingredients
2 tbsp coconut oil
1 tbsp cacao powder
1/2 tsp sweetener (sugar or maple syrup)
1 frozen banana cut into 3 inch segments
Directions
Mix oil, cacao powder and sweetener and roll the frozen bananas in the mixture just using a spoon to rotate, coat and remove.  Eat immediately or cover and put in the freezer for later.  Adjust proportions to coat as much as you like.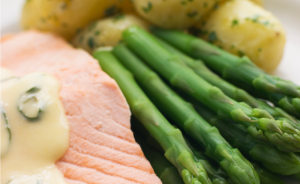 Lemon, dijon and herb grilled salmon
Rima Kleiner is a nationally recognized nutrition expert and the registered dietitian for The National Salmon Council. She calls salmon a 'superfood powerhouse' because each serving is packed with protein, vitamin D, calcium, vitamin B12, selenium and omega 3 fatty acids. Try Rima's recipe below for a flavorful and delicious dinner, and find more recipes on her website. 
Ingredients
2 tablespoons olive oil
2 tablespoons Dijon-style mustard
2 tablespoons plain yogurt
2 tablespoons honey
1/4 cup chopped fresh Italian parsley
2 garlic cloves, minced
1 medium lemon, zested and juiced
1/2 teaspoon ground cumin
4 (6-ounce) salmon fillets
1 teaspoon kosher salt
1/2 teaspoon freshly ground black pepper
Lemon wedges, for serving
Directions
In a medium bowl stir together the olive oil, mustard, yogurt, honey, parsley, garlic, lemon zest and juice, and cumin until thoroughly combined. Rub the mustard mixture all over the salmon and place in an airtight container. Marinate in the fridge for at least 4 hours or overnight.  Prepare the grill for direct cooking over medium-high heat (about 400°F), making sure to oil the grates well so the salmon doesn't stick. Season the salmon with the salt and pepper on both sides and discard any remaining marinade. Grill for about 5 minutes per side, or until the salmon is just barely opaque throughout. Transfer the salmon to plates and serve with lemon wedges.
Thanks to all the experts who contributed to this article.  Do you have a superfood you love?  Share it with us on Facebook and Twitter!  Let QardioBase, smart wireless scale help you track your progress with full body composition analysis and Smart Feedback.