The first-ever RPM service to include a 24/48 hour ambulatory ECG service in a single, intuitive system. Improved workflows. Faster diagnosis. Benefits to practitioners and patients alike.
No cost to set-up
Fully remote end-to-end service
Identify atrial fibrillation and other arrhythmias faster and more efficiently
Automatic CPT billing feature included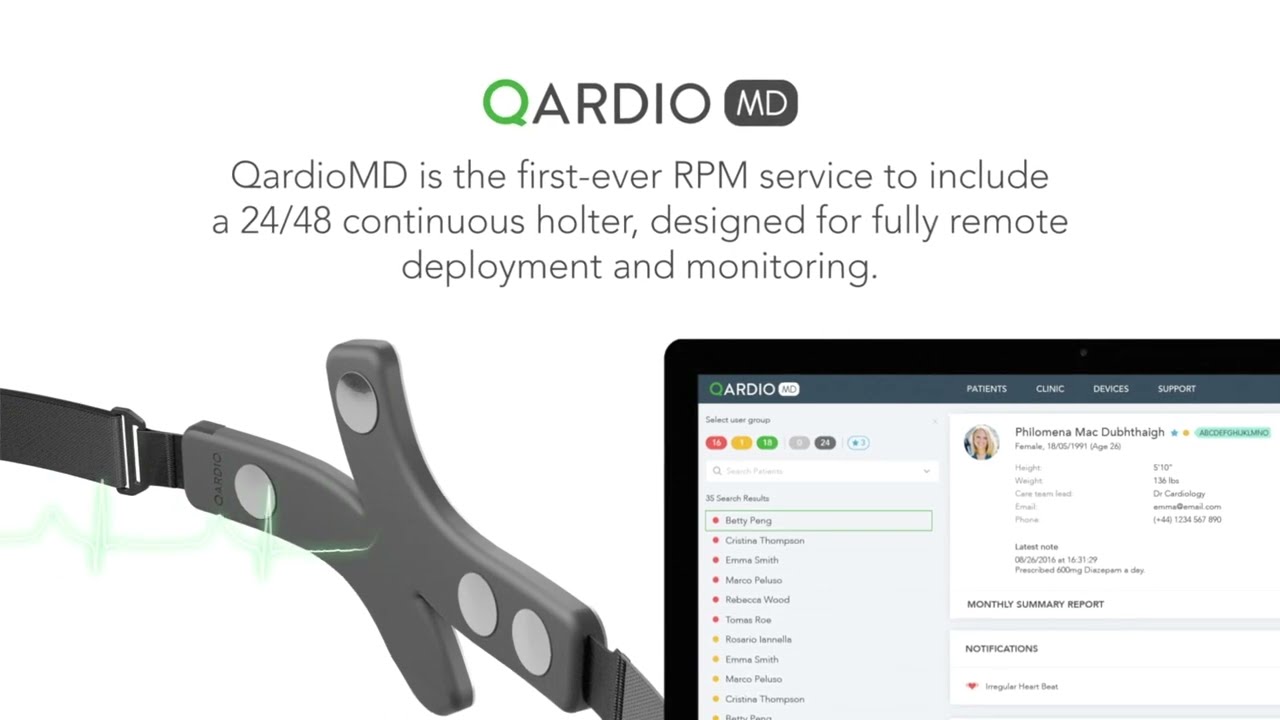 Unique benefits of the Qardio ECG + RPM service
We take care of the whole RPM process from end-to-end so you can work more efficiently and improve patient outcomes
Full disclosure ECG data and diagnostic reports are provided within 24 hours
Short duration recordings within RPM identify periods of arrhythmia. When more detailed analysis is needed, prescribe for 24/48 hours
No in-clinic fitting needed and no technician needed – 100% remote deployment
Diagnose atrial fibrillation along with a full-range of other cardiac events
Most patient-friendly holter. No gels, patches, or wires
Use QardioCore to measure patients' ECG at home or in your office
ECG along with other vital data is transmitted to the QardioMD platform
Generate reports and view ECG data
Healthcare professionals use HIPAA compliant QardioMD platform to remotely monitor and care for patients
Get reimbursed for both RPM and holter reimbursements
"As a heart rhythm specialist, I have been impressed with the ECG signal fidelity of the QardioCore device. The wearable electrode interface does not require gels or adhesives and provides both clinical and research quality signal."
– Dr. Spencer Rosero,
Cardiovascular Disease specialist
"Being able to set up a clinically validated ECG test in seconds and review the data in QardioMD remotely in real time has been a true game-changer in Holter monitoring."
– Dr. Craig Barr,
Cardiologist
"Thanks to Qardio, we've been able to catch at least three patients who had heart arrhythmias. We were then able to send them immediately to a cardiologist. The benefits of using QardioDirect are phenomenal."
– George Fahnbulleh
Gold Canyon Internal Medicine, AZ
Unique benefits of the Qardio ECG + RPM service
Continuous 24/48 hour holter, designed for fully remote deployment and monitoring
Easy to wear, designed for high patient compliance and high diagnostic yield
Self-fit. No wires, patches or skin preparation needed
High patient satisfaction. Qardio achieves over

97%

satisfaction among patients (internal study of 5000 Qardio users)
QardioCore product details
27.5-43 in (70-109cm)
Not suitable for pectus excavatum (sunken chest)
Splash and water resistant, rated IP65
7.3 x 3.4 x 0.4 in (185 x 87 x 9 mm)
0.29 lb (130g) including batteries
Lithium-ion polymer battery. Continual working time up to a day without charging.
All Qardio devices and services are fully HIPAA and GDPR compliant with CE and FDA regulatory approval.